Best Computer Desktop Repair Service Provider in Hyderabad
Computer Desktop Repair Services We offers a wide variety of services to fix any issues with your desktop and make it work like new again. We can fix software-related issues and hardware problems like hard disk issues and RAM replacement. We also provide specialized service for monitor, motherboard, sound, Network card, and peripherals.
Computer Desktop Repair Services:
• Virus and Malware Removal
• Hardware Troubleshooting Diagnosis
• Software Upgrades Fixes
• Data Recovery from Hard Drives / Computers
• Operating System Upgrades Fixes
• Mouse, Keyboard, Headset Troubleshooting
• Monitor Repairs Peripherals
• Hard Drive, RAM, Video Card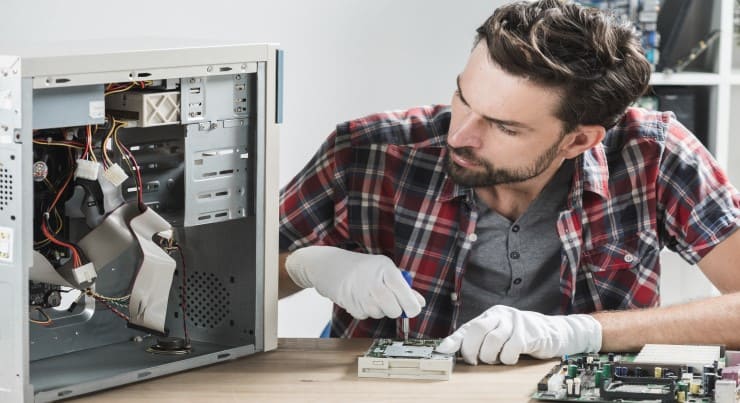 Repx Repair and Service
We are the best repair service provider for computer desktops and monitors. Our technicians have extensive knowledge, training and experience in repairing computers, motherboards, power supplies, motherboards, fans and other peripherals.
Computer repair right at your doorstep
We understand how difficult it is to get a reliable computer technician in your area. That's why we offer same-day onsite service! All our services are 100% guaranteed - so you can trust us with your computer repairs.
Quality you can trust
We understand that it's hard to find someone you can trust with your valuable computer repairs. That's why we're so confident in our work that we offer a 100% guarantee on all of our services - so go ahead and try us today!
Fast computer repair services
Repx provides the best computer desktop repairs with experienced technicians, on-time service and warranty. Whatever the problem, we'll get it fixed right away.
Computer Repair for Personal Computers
Repx, with expert computer experience, offers you all types of computer repairs - from fixing your display to eliminating software issues and upgrading your RAM and hard disk. We provide free diagnostics as well!
No more leggy computers
We repair sound not coming issue, internet not connecting issue and many other problems related to your laptop or desktop systems! With fast turnaround time and affordable rates, come to Repx for all your tech needs.
Repx Home of quality computer repair service
Repx is one of the leading computer repair service providers in Hyderabad and Secundrabad. We offer an extensive range of services including hardware and software repair, hardware up gradation, and troubleshooting.
Repairing computers, one at a time
Repx has been in this industry for more than 10 years, with more than 12000 happy customers to date! We use our expertise to troubleshoot your problem and get you back up and running in no time at all.
Computer services for all budgets
At Repx we offer affordable desktop repairs for all budgets - from a quick SMPS replacement to extensive motherboard repair - we have something for everyone! All our services are available on site or at your doorstep.
No job too big or small
We're committed to providing you with a range of computer repair services that meet your needs - be it an SMPS replacement or hard disk upgrade, all you need is to call us today!
Repx Your one stop solution
We are your one stop solution for all your computer desktop repairing needs, specializing in all kinds of repairing services!
Repairs done in just 30 minutes!
No matter what the problem is, we have the right solution to fix it. We promise that you will migrate to a new computer with our computer desktop repair services.
We are safe and secure!
All our work areas are certified by the PCI-DSS and ISO 27001 standards. This ensures that you can comfortably entrust your data to us and sleep peacefully at night knowing that your data is safe with us.
Free Pick-up and Drop service!
No need to worry about anything else, we pick up from anywhere within Hyderabad and Secunderabad and drop off anywhere within Hyderabad and Secunderabad's limits.
What should I do if my computer won't turn on?
If your computer is not turning on, there are a few steps you can take to try and solve the problem. First, check that your power cord is plugged in securely and that the outlet is working. If you are using a laptop, make sure it's plugged in to a power source. If the battery is dead or the laptop has been off for too long, plug it into an outlet or power strip and wait for at least an hour before attempting to turn on your computer. If your computer still won't turn on after following these steps, there may be a hardware issue. Try removing any peripherals connected to your computer (such as a printer) and then restarting it again. If this doesn't work, you will need to contact our technical
How can I fix a computer that is frozen or not responding?
This article provides a step-by-step guide on how to fix a computer that is frozen or not responding.
Step 1: Reboot your computer by pressing and holding down the power button for 5 seconds.
Step 2: If your computer is still not responding, hold down the power button for 10 seconds.
Step 3: Unplug the power cord from the back of your computer and plug it back in again.
Step 4: Hold down the power button for 10 seconds again, then release it and wait about 15 to 20 seconds before you turn on your computer again. This will reset your hardware and software settings so that they can be set up correctly.
How do I resolve a computer problem that has a black screen and won't load?
The computer should be restarted, which clear any temporary issues that will may have caused the black screen. If the computer is not responding at all, then try pressing and holding the power button for 10 seconds to force a shutdown. If the problem persists after restarting, it may be necessary to take extra steps to resolve the issue. This could involve troubleshooting with a technician or replacing hardware.
What are some of the common causes of computer desktop display problems and what should I do to fix them?
The following article will discuss some of the common causes of computer desktop display problems and what you can do to fix them.
Computer display problems can be caused by a number of factors. Some common causes include:
-Incorrectly configured graphics settings
-Incorrectly configured screen resolution
-Incorrectly configured colour depth
-Incorrectly configured refresh rate
-Graphics card issues or driver issues, such as video card or driver incompatibility or out dated drivers, or improperly installed drivers.
Do you need technical knowledge to install Windows 10?
Windows 10 is one of the most popular operating systems in the world. It has been tested and refined by Microsoft for over four years, and it's now a good time to install Windows 10 on your PC. This article will provide you with a step-by-step guide on how to install Windows 10. You will learn what you need to do before installing Windows 10, how to download and prepare the installation media, how to start installing Windows 10, and how to upgrade from an older version of Windows
Introduction:
Windows 10 is one of the most popular operating systems in the world. It has been tested and refined by Microsoft for over four years, and it's now a good time to install Windows 10 on your PC. This article will provide you with a steps.
What hardware do I need to install Windows 10?
Windows 10 is the latest Windows operating system that is installing Windows 10 on your computer; you need to make sure that you have the right hardware in your device.
Processor: Your processor should at least have an Intel Core i3 or AMD A10 with 2.4 gigahertz processor speed or better.
Memory: The memory should be at least 4 gigabytes or higher and it should be DDR3 or DDR4 memory type.
Storage: You need to have at least 16 gigabytes of storage space for installation purposes and it needs to be on an SSD drive type.
Graphics card: You need a graphics available for download. It has a lot of new features and can be installed on a variety of devices. If you are going to.
What is the difference between an upgrade, a system rebuild, and a clean installation?
When a computer is running slow, it might be time for a system upgrade. This is when the old system is replaced with a new one. This can also be done in order to get the latest updates from the company that made the software. A clean installation is when all of your personal data, applications and settings are erased from your computer and you start over with a fresh install of your operating system. A clean installation might be necessary if you have an old version of an operating system and want to update it to the latest version. Finally, if there is an error with your computer, you may need to do a system rebuild instead of an upgrade or clean installation. A rebuild will erase everything on your hard drive and replace it with new software that should fix any errors or problems that.
Do I need to know anything about compatibility before I start the installation process?
No, but you might want to know what the compatibility requirements are for the operating system that you are using. You don't need to know anything about compatibility before you start the installation process, but it's a good idea to know what the requirements for your operating system are.
What is the blue screen error?
The blue screen error is a common computer error that can be caused by a number of different reasons. It usually appears when your computer has crashed or restarted. The blue screen is the last thing you will see on the screen before it turns off, and it tells you what caused the problem and how to solve it.
If your computer crashes and you see a blue screen, there are three possible ways to fix the problem:
Restarting your computer
Rebooting in Safe Mode
Troubleshooting with Windows
What type of problems is caused by this error?
This error is caused by the use of a comma instead of a period.
How do I fix this blue screen error?
Many people have encountered the blue screen of death, a blue screen error. The blue screen error is a serious problem that can cause your computer to stop functioning. The most common causes for the blue screen of death are viruses and malware, hardware incompatibility, or conflicts with other programs. There are many ways to fix this error. One way is to restart your computer and then press F8 when the windows logo appears on the boot menu. This should bring up advanced options where you can choose from safe mode, last known good configuration, etc.
Another way is to use third-party software like System Restore which will restore your system back to an earlier date with no problems detected. If you cannot get into Windows at all, try using Windows Live CD or Windows.
What should I do if my computer is continuously restarting?
If your computer is constantly restarting, you should check if there are any hardware problems. For example, if your computer is overheating or has a bad power supply. You should also make sure that you have the latest updates and drivers installed on your computer. If everything seems to be working properly and the problem persists, it might be due to a software issue.
If you are using Windows 10, you can try running the Start-up Repair Tool by following these steps:
1) Press Windows Key + R to open the Run dialog box
2) Type "msconfig" in the text field
3) Select "OK" in order to launch System Configuration Utility
4) Click on "Start-up Repair" and follow the instructions
The most trusted computer repair service in Hyderabad
Repx: offers a complete range of computer services in Hyderabad and secundrabad. We help people with power on problem, display problem, OS or software problem, hard disk repair or up gradation, ram replacement and more!
We offer everything you need!
We offer computer services for laptops, desktops, and even tablets. From repairs to up gradation to installation of new software, we have the solution for you!
Service that is guaranteed
Repx is also proud to be the only company in the area that offers a lifetime warranty on all parts and labor for all repairs!
Why trust us?
We use only the most reliable parts on your repairs - so when we're done with your computer there won't be any surprises. Plus our technicians are certified professionals with years of experience.
Repx is the best computer desktop repair service provider in Hyderabad
We are the best computer desktop repair service in Hyderabad and secundrabad. We provide all kinds of services related to computer desktops.
Repair of Computer Desktops
We offer a wide range of services related to computer desktops. We can fix a problem that you may be having with your computer, or give you the tools and knowledge to fix it yourself!
Fast and Affordable Computer Repair Services
We are very fast and affordable, with same-day turnaround on most repair jobs. We will never charge a fee for our estimates!
Premium Quality Service
Our service is premium quality, our employees are highly trained, and we use only top quality parts when repairing your PC!
Repx: Your IT savior
Repx is a computer desktop repair service that specializes in providing excellent service and quality work at competitive rates. With over 10+ years of experience in the industry, you can rely on Repx to get your computer up and running in no time, with minimal downtime.
Quality work, competitive pricing
We believe in delivering quality work, at competitive prices. We are confident that our prices are among the most affordable in the industry - but don't just take our word for it! You can always ask about our rates for repair on any of your devices before you get started.
We're dedicated to customer satisfaction
At Repx, we're committed to providing you with the best customer service experience possible, from start to finish! Fully trained staff and pre-diagnostic inspections will help us identify any problems before they happen – so you never have to worry about getting ripped off again!
Our expert technicians available in All Locations
Gachibowli
Mallapur
Kukatpally
Mallepally
Marredpally
Maruthi Nagar
Habsiguda
Masab Tank
Jubilee Hills
Meerpet
Mehdipatnam
Banjara Hills
Miyapur
Manikonda
Moosabowli
Moosapet
Ameerpet
Moosaram Bagh
Shamirpet
Moti Nagar
Moula Ali
Srinagar Colony
Musheerabad
Quthbullapur
Nacharam
Nagarjuna Hills
AS Roa Nagar
Nagole
Abids
Nallakunta
Nampally
Adikmet
Narayanaguda
Afzalgunj
New Bowenpally
Nimboliadda
Amberpet
Nizampet
Anand Bagh
Old Alwal
Osmania University
Asif Nagar
Padma Rao Nagar
Attapur
Panjagutta
P And T Colony
Bachpally
Parsigutta
Bagh Amberpet
Patancheru
Raj Bhavan Road
Bahadurpura
Rajendra Nagar
Bala Nagar
Ram Nagar
Ramakrishna Puram
Bandlaguda
Ramanthapur
Balapur
Bagh Lingampally
Auto Nagar
Ashok Nagar
Alwal
Adarsh Nagar
A C Guards
Sainikpuri
Uppal Kalan
Hi-Tech City
Secunderabad
Bapuji Nagar
Ramkote
Barkatpura
Ramnagar Gundu
Basheerbagh
Rasoolpura
Begum Bazar
Red Hills
Bharat Nagar
RTC X Road
BHEL
S D Road
Bod Uppal
S P Road
Bolaram
SR Nagar
Borabanda
Safilguda
Bowenpally
Saidabad
Chaitanyapuri
Saifabad
Champapet
Saleem Nagar
Chanda Nagar
Sanath Nagar
Chandrayanagutta
Tolichowki
Chappel Bazar
LB Nagar
Charlapally
Kothapet
Charminar
Saroor nagar
Chatta Bazar
Maruthi nagar
Chikkadpally
Nanankram guda
Chilkalguda
Himayath nagar
Chintal Basti
Kondapur
Chintalkunta
Alkapuri colony
Lingampally
Vanasthalipuram
M G Road
Hayath nagar
Madannapet
Manikonda
Madhapur
Vidya nagar
Madina Guda
Hyderguda
Mahendra Hills
ECIL
Malakpet
DD Colony
Malkajgiri
Tarnaka
Features of the Services
Choose the required date and time slot for the service. Select a professional from the various listed and place the booking. Upon booking our professional will call you back within some time, brief him about your requirement, he will come to your home by the scheduled time. Estimate to repair will be provided by our technician. If you are satisfied with the estimate, he will proceed with the repair.